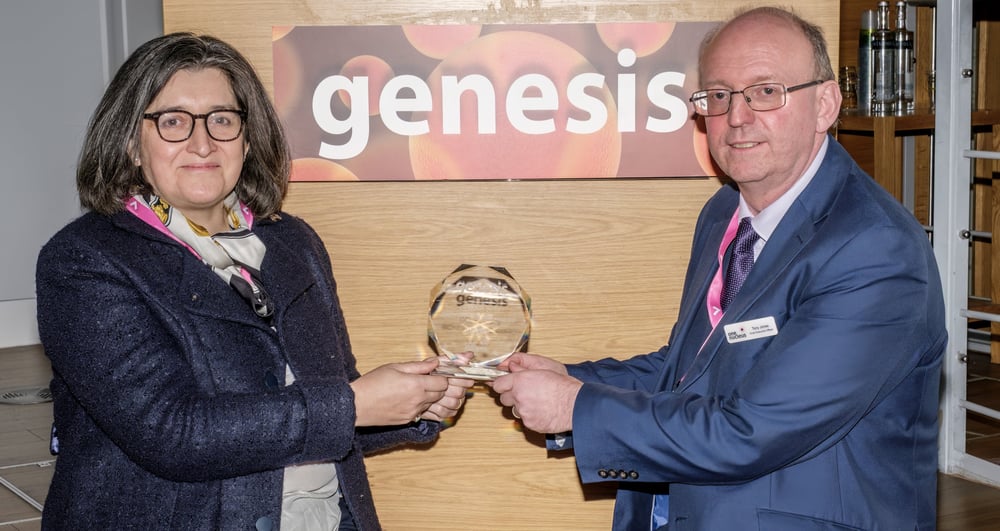 PrecisionLife Co-founder Rowan Gardner, with One Nucleus CEO Tony Jones, collecting the BioNewsRound Award 2022
OXFORD, UK, 9 December 2022 - PrecisionLife is pleased to announce that it has been named as the winner of the 2022 BioNewsRound Award at the annual Genesis 2022 event. PrecisionLife received the award for its study which discovered the First Genetic Links in ME/CFS Paving the Way for New Diagnostics and Drugs.

The BioNewsRound Award, organized by life science trade association One Nucleus, celebrates companies that have demonstrated success in advancing their programs along the innovation pipeline and recognizes advances in biopharma R&D that promise great potential to improve patient outcomes from the past year.

PrecisionLife unveiled the results of its study that provided the first ever detailed genetic insights into the mechanisms underpinning Myalgic Encephalomyelitis/Chronic Fatigue Syndrome (ME/CFS) in September at the ME Genetics Research Summit organized by charity, Action for M.E. and the MRC Human Genetics Unit, University of Edinburgh.

By stratifying an ME/CFS patient population at an unprecedented level of resolution to reveal deep insights into the biology of the disease, the findings of the study offer new approaches for better diagnosis and the potential to develop personalized treatments for subgroups of patients.
Rowan Gardner, Co-founder of PrecisionLife, said on collecting the award: "It was an honour to collect PrecisionLife's BioNewsRound award. My colleagues who are doing outstanding mission-driven work and who routinely discover groundbreaking insights in chronic diseases wholly deserve this recognition."

Above all, this is a fantastic opportunity to raise the profile of a disease with 100% unmet clinical need and acknowledge the ME/CFS community who have encouraged and welcomed PrecisionLife research into the disease. We're all grateful for their continued inspiration."
Sonya Chowdhury, CEO at Action for M.E., added: "There has never been a more crucial time for the ME/CFS community. Greater awareness is desperately needed to help improve the support, treatment and daily lives of those living with the condition. At the same time, biomedical research, like that conducted by PrecisionLife, is vital in the quest to rid the world of debilitating disease like M.E. and CFS."
Simon McGrath, a patient representative for the DecodeME project and author of the ME/CFS Research Review, commented: "The greatest hope for people with ME/CFS is the kind of cutting edge research shown by PrecisionLife. We need more biotech companies to bring their innovation to the field of ME/CFS."
Tony Jones, CEO, One Nucleus, added: "Each year the Genesis conference gathers thought leaders from our industry to discuss the advances, opportunities and challenges faced in translating world-leading science and innovation into successful business, products and patient benefits. It is therefore fantastic to see PrecisionLife win this year's BioNewsRound Award given their exemplification of achieving that translation."
ME/CFS is a severe and severely neglected disease. It has no effective treatment, no diagnostic markers and no known causes. Approximately 17 to 24 million people live with the chronic disease, which presents with diverse symptoms including post-exertional malaise, chronic pain, and cognitive impairment.

The results of the PrecisionLife study provide new hope of developing effective precision medicines for people living with ME/CFS around the world and may be used to develop the first diagnostic biomarkers, discover novel drug targets, and identify precision drug repositioning opportunities.


Find out more
Read the full PrecisionLife ME/CFS study paper - Genetic Risk Factors for ME/CFS Identified using Combinatorial Analysis

Action for ME - UK charity supporting people with M.E. of all ages

DecodeME - the world's largest ME/CFS study: take part here

The ME/CFS Research Review - blog explaining the most promising biomedical findings in ME/CFS
Name Surname, Position, Company