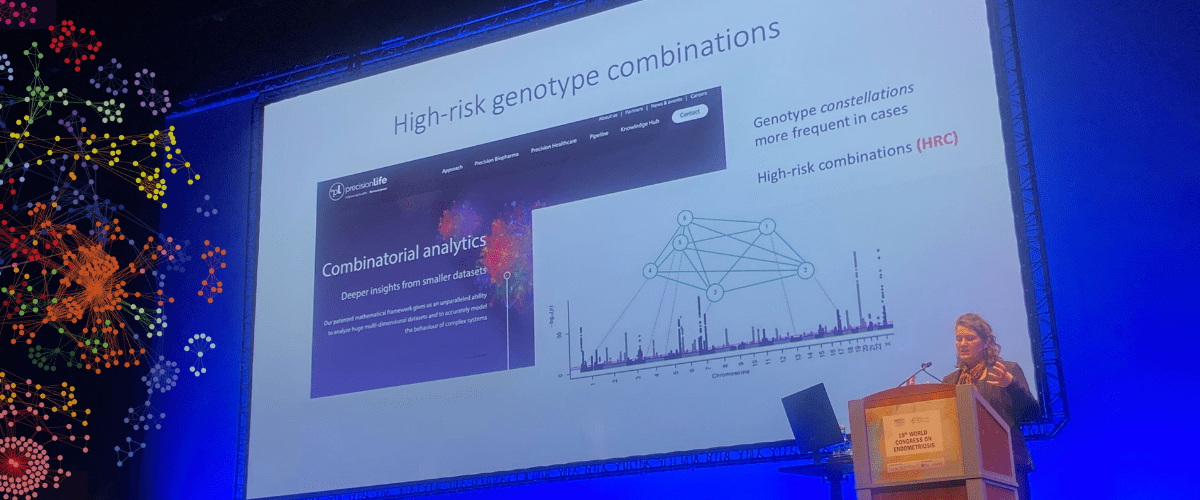 Professor Mette Nyegaard presents genetic subtypes in endometriosis identified by PrecisionLife combinatorial analytics at the 15th World Congress on Endometriosis
We continue to make considerable progress across our portfolio of complex chronic disease programs to find better treatment options for patients with unmet medical needs. A good example of this is in endometriosis.
Endometriosis is a common chronic disease associated with debilitating pelvic pain and infertility, which affects 10% of women globally. Currently there is no approved diagnostic biomarker or disease modifying treatment.
PrecisionLife is a member of FEMaLe (Finding Endometriosis using Machine Learning), a Horizon 2020 EU multi-center project aimed at improving diagnosis, prevention, and care in endometriosis.
Our latest contribution to the project was presented by leading researchers in the genetics of endometriosis at the 15th World Congress on Endometriosis, recently held in Edinburgh.

"This could pave the way for enhanced risk prediction tools and the emergence of personalized treatment options"

Mette Nyegaard, Professor of Personalized Medicine, Aalborg University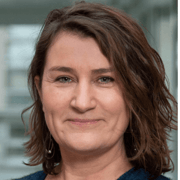 Analyzing Danish and UK biobank data with the PrecisionLife combinatorial analytics platform, our goal to achieve two firsts in endometriosis:
Identify genetic risk factors to classify women as being at high or low risk of developing endometriosis

Perform high-resolution patient stratification to provide insight into potential new drug targets and drug repurposing opportunities to enable precision medicine for women living with endometriosis
The results of our analysis are anticipated to be submitted to peer review later this year and were presented by Professor Mette Nyegaard at the World Congress.
"I was both honored and thrilled to present the first results of our genetics study within the FEMaLe project at the World Congress on Endometriosis", said Mette Nyegaard, Professor of Personalized Medicine, Department of Health Science and Technology, Aalborg University.
"Through our collaboration with PrecisionLife, we have accomplished a significant milestone by stratifying endometriosis patients using genetic insights, shedding light on distinct patient subgroups defined by combinations of genetic risk factors for the very first time. Ongoing work now involves replication of these findings in multiple datasets in collaboration with Oxford University, which could hold the key to advancing our mechanistic understanding of endometriosis. This could pave the way for enhanced risk prediction tools and the emergence of personalized treatment options that are both more effective and tailored to individual patients' needs."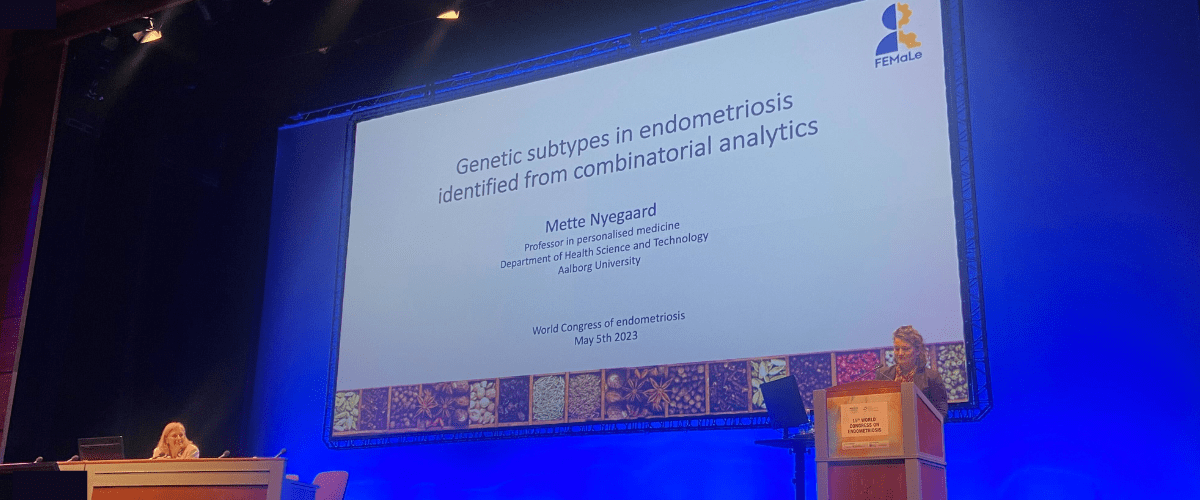 The World Endometriosis Congress served as a reminder of the importance of interdisciplinary efforts and the need to prioritize research and patient perspectives to drive meaningful change in the field of women's health.
The event featured an impressive lineup of speakers, comprising a diverse range of world-renowned scientists and clinicians. One of the most notable aspects of the congress was the emphasis on the power of research in enhancing our biological and social understanding of endometriosis, and the importance of making patient data available for responsible academic and commercial research to accelerate progress.
Despite historical under-funding of diseases that disproportionately affect women's health, the researchers showcased inspiring studies that are reshaping our knowledge and challenging the status quo. It was a testament to the resilience and determination of the scientific community to bring about meaningful change.
Equally important was the opportunity to engage with endometriosis patients who attended the conference. Their presence was integral in guiding the research priorities and communicating the areas that matter most to them. Their personal stories and experiences served as a poignant reminder of the impact of endometriosis on individuals' lives and the importance of endometriosis research and collaboration between scientific and patient communities.
Overall, the World Endometriosis Congress provided a platform for collaboration, education, and inspiration, and a fitting stage for PrecisionLife and our FEMaLe project partners to highlight the progress made in understanding the genetic subtypes of endometriosis using combinatorial analytics to improve risk prediction and drive precision medicine.
For more information about the FEMaLe project, please visit: findingendometriosis.eu
To learn more about PrecisionLife's work in endometriosis and other disease areas, see the disease studies in our Knowledge Hub or contact us for further insight.